How to manage mavericks
A bloke in your office comes up with brilliant ideas. He's also a pain in the butt. How do you manage such people? Here's a crash course.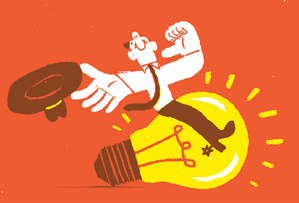 Learn the typology. According to maverick mentor Judith Germain of Seeing Solutions: 'Mavericks are wilfully independent, with a sense of mischievousness. They question everything and stand up for what they believe in, even if it costs them their job. They are risk-takers who break the rules, and they have a confidence that is often seen as arrogance.' And they're usually among the top performers.
Spot them. They stand out, says Germain, because they challenge assumptions and come up with unconventional solutions. If you want a more scientific approach, try the ear test. A study by Dr Elliroma Gardiner of the London School of Economics and Chris Jackson of the University of New South Wales found that people with a preference for using their left ear rather than their right ear (for example, to listen through a door) are more likely to be mavericks.
Point to the goal. Mavericks focus on the objectives they are given and choose their own way to get there. 'The key is to be clear about how you see mavericks contributing to the organisation,' says Ian Brookes of business growth consultancy DNA People.