How to manage shareholders
Your board is panicking about being voted down by rebellious investors at your next company meeting. Here's a crash course in keeping shareholders onside, and your credibility with the investment community intact.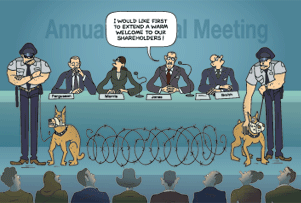 Know your investors. Many of the names on your shareholder register are nominees, holding the shares on behalf of beneficial owners. 'Companies really need to talk to the investment advisers who often make the decisions for pension funds and other institutions,' says Cas Sydorowitz, chief executive of European advisory at shareholder consultancy Georgeson. The biggest shareholders should be the focus of your efforts.
Be inclusive. Pay attention to small or overseas shareholders too, as they can represent a big block of equity. Sarah Wilson, chief executive of proxy adviser Manifest, says: 'All material facts should be available to all shareholders, via the annual report or disclosure. Selective briefing to deal with interpretation or misunderstanding is fine, but it's better to make information available in the first place.'
Engage early. Don't wait until your AGM is imminent. 'Investors say, talk to us outside the proxy season,' says Sydorowitz. 'In April, they may be voting on hundreds of meetings a day. So talk to them when they have time.'