The management challenge facing the public sector
The public sector may need to try and emulate the private sector if it's going to make all these cuts...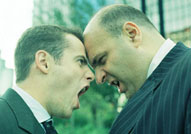 The spending cuts have finally been unveiled. But there's a suspicion that Whitehall is going to have a hard job turning itself into a lean, mean, efficiency machine without some fairly radical changes in management attitudes. Consultancy Knox D'Arcy argues that the focus ought to be on improving productivity - but that public sector managers lack the skills to deliver reductions of the required scale without cutting back services. The CIPD strikes a similar note, arguing that managers need support in their attempts to 'enthuse public sector workers about new ways of working and to secure buy-in to new means of service delivery.' Good luck with that one...

You may recall that Knox D'Arcy ran some research on public sector productivity a few months back, and found that while private sector employees spend 44% of their time doing something useful, that's only true for civil servants 32% of the time – almost a third less. With some departments now tasked with slicing 20-odd% off their budgets, making public sector staff as productive as their private sector counterparts would be a pretty good way of delivering the same services with less resource. And if it's true that half a million jobs are likely to go in the coming years (as per Danny Alexander's briefing papers), that's the only way to stop front-line operations being affected. However, Knox D'Arcy thinks public sector managers won't be able to do that, so they'll end up cutting services if their headcount shrinks.
Whether or not this is true, there's no doubt that public sector managers are going to have an awfully hard time in the coming years. Their own position may well be uncertain, yet they'll be expected to try and maintain morale among a shrinking workforce, while bringing in delivery changes that will also result in fewer jobs. According to the CIPD, good communication is the key: staff must be persuaded of why the cuts are necessary to get their buy-in, and the 'survivors' must be carefully managed. That's the only way a scaled-down public sector will end up being fit for purpose, it argues.

Improving productivity is a nice idea. But however good your managers, it's hard to do that when you're dealing with a disengaged workforce who spend half their time worrying about whether they'll have a job next month. It's also hard to see who'll provide the support that public sector managers need. One thing's for sure: this is going to be an extremely painful process.