Management lessons from Ghosn?
What does the reader of Fortune get out of the latter's 'expansive' and 'exclusive' interview with Carlos Ghosn (December 11, 2006), the famed super-CEO of Renault and Nissan? The answer is not a great deal.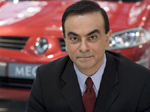 Once more Ghosn's frenetic jet-setting management lifestyle is chronicled with images of the man in very lonely, soulless corporate hallways and meeting rooms, reminiscent of a JG Ballard novel.
In a given month, Ghosn clocks up just under 20,000 miles flying between Asia and Europe to manage his dual CEO roles. This not especially green way of working is said to be manageable because Ghosn has a results-oriented approach in which he holds people clearly accountable.
Therefore, he enthuses and directs, and then leaves them to get on with it and can check back later if they have delivered. In spite of the media's attempts to blow Ghosn up into demi-god status, the far wiser assessment comes from Garel Rhys of the Cardiff University Center for Automotive Industry Research in Wales. He tells Fortune: "[Ghosn] is not a superman, only a human being, but he gets results. He sets goals and holds people accountable."
It is suggested that Ghosn was itching to take advantage of the supposed 'synergies' that would have come from a Renault-Nissan tie-up with GM. It is not mooted that this might have been too much even for Ghosn to cope with. He still hopes it will come back to the negotiating table.
Meanwhile, Ghosn has to work out how to raise performance at both Renault and Nissan where sales or margins have dropped. Ghosn pays homage to Toyota for its ability to operate in a complex environment without making many mistakes.
He points to the fact that new competition will come from China and India, which are likely to supply cheap cars into the US market (below $10,000), a scenario reported on in the April 2006 issue of World Business. His strategy is to "address what consumers want" rather than investing in new models for the lines he has. With his global outlook, Ghosn takes a very worldly view of the car business.
He told Fortune: "The U.S. seems to be going more hybrid…Europe is definitely going diesel. You don't see any hybrids in Europe. South America is going bio-ethanol. As a global car manufacturer, you can't just stick with one thing. It's very dangerous."
By Morice Mendoza