Management on the Rocks
The bruisers of the Treasury Select Committee were let loose on the management of Northern Rock this morning, but despite the occasional accurate body blow, they failed to land a knockout punch on the beleaguered foursome.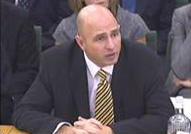 When he could get a word in edgeways amid the screeching of chairman John McFall, the Rock's weary-looking chief executive Adam Applegarth put up an impressively solid defence of the bank's lending and borrowing policies, as he faced repeated accusations that it had adopted a dangerously aggressive strategy.
There was nothing the Rock could have done to mitigate the risk, the chief exec insisted. It had deliberately slowed its new lending and started selling higher-risk assets to cope with the tightening of the credit markets, while also diversifying by geography and product type. It had even stress-tested for all manner of scenarios (including a 40% drop in house prices) – but not for the 'unprecedented and unforeseeable… rapid and long-lasting closure of global markets'.
Instead, he seemed to suggest the Bank of England should carry the can (though he refused to say so explicitly). If a covert lending facility had been available, as it was in the US and Europe, the run wouldn't have happened. If the last resort facility had been extended to the unnamed high street bank offering a 'safe haven' prior to the news being leaked, allowing an offer to be made, that could also have averted the run. But by the time this happened it was too late, he said.