Manager working long hours? You're more likely to be depressed and have a stroke
Being stuck in the middle while chained to your desk is not good for your health, according to two studies.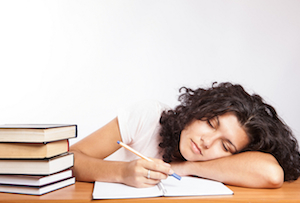 If you're a manager working long hours you might want to think about the pressures you're under. Managers and supervisors are more likely to be depressed, while long hours puts you at greater risk of strokes.
Of people in executive or managerial positions, 18% reported symptoms of depression, compared to 12% of the workers below them, according to researchers at Columbia University's Mailman School of Public Health. Managers were also twice as likely to say they suffered from anxiety.
The findings were based on a 2001-2 survey of almost 22,000 Americans who were aged 18 or over and in full-time work. The researchers then divided people into three pretty broad categories: business owners, who were both self-employed and earned more than $71,500 (£46,000); managers and supervisors; and workers.