Managers failing to deal with underperformers
Oddly, the recession seems to have made managers more reluctant to crack down on poor performers.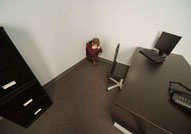 In this era of cost-cutting and efficiency drives, you'd think that managers would be quick to weed out employees who were failing to pull their weight. But not according to research institute Roffey Park: its latest study reveals that 40% of managers think their employer is no good at tackling underperformance – a stat that has more than doubled since last year. In fact, just 8% of bosses think their employer does a good job of managing underperformance (the remaining 52% said it was handled 'somewhat well', whatever that means). These are pretty alarming figures, particularly since the situation seems to be getting worse rather than better. So is this a failure of leadership, or are managers just looking for excuses?

Underperformance is clearly even more of a problem when times are tough, because companies can't afford to be carrying excess baggage. So what's going on? Well, the overriding view of the managers surveyed was that performance management is too complicated and time-consuming. In other words, when they have so much else on their plate, the last thing they want to be doing is jumping through the hoops of a disciplinary process, with all its procedural demands. And it's easy to sympathise with this argument: although these rules are a perfectly valid way to protect employees, they undeniably make life more difficult for managers.

Other respondents blamed their organisation's culture, claiming that there was no history of this sort of thing, or suggesting that they didn't get enough support from senior managers and the HR department. A sizeable number of (possibly more honest souls) admitted they didn't have the personal skills, the authority or the knowledge to deal with the issue. And one even suggested that if he/ she got rid of all their poor performers, they'd have nobody left (now that sounds like a great company). We also noted with interest that senior managers are much more confident about dealing with underperformance than middle managers, who in turn are much more confident than junior managers.

Taking all these factors together, one obvious conclusion leaps out from this study: this is first and foremost a training issue. Most companies just don't seem to be very good at either transmitting a performance culture throughout the business, or supporting junior managers to enforce it. And as long as this knowledge gap exists, they're going to shy away from dealing with the issue - which can't be good for anyone concerned.

In today's bulletin:
Unemployment falls to 2.46m - but beware false dawns
Bank of England 'not fit for purpose' says ex-MPC man
Eurostar sales up despite Christmas travel chaos
Why Kraft takeover will hurt Cadbury's talent production line
Managers failing to deal with underperformers