Managers and professionals dominate UK job growth
Higher-paid managerial, professional and semi-professional jobs have grown faster than any other type of work in the UK over the past decade while the proportion of low-paid, low-skilled work has declined, according to a new study.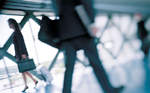 The Work Foundation report finds that among young men, managerial jobs grew by 12.73%, professionals by 8.13% and associate professional jobs (such as nurses and technicians) by 16.98% between 1995 and 2005. Among women, the number of managers grew by 29.53%, professionals by 15.01% and associate professionals by 56.89%.
The report highlights the need for UK companies and employment bodies to raise the skill levels of the country's workers in response to the changing labour market. The Leitch Review into skills training, commissioned by the Treasury and published last week, warned that the UK is "on track to achieve undistinguished mediocrity" if it fails to improve the skills of its workers.
Ian Brinkley, director of the knowledge economy programme at The Work Foundation and co-author of the report, said the move towards a more knowledge-intensive world of work had been a "relatively benign" development for workers. He said: "The report challenges a hefty number of popular theories. In the 1990s, it was widely claimed that work and society were becoming more divided, while breaking into the elite would be nigh on impossible. That story no longer looks right. Instead, what seems to be happening is that, if anything, the world of work is upwardly mobile."
Brinkley said that while there has been some polarisation among men, "with the growth of shelf-stacking, van-driving type jobs alongside the lawyers, accountants and management consultants", overall the knowledge economy is "not creating a new class divide". And among women in particular, "there seems to have been a fairly smooth transition into a higher-skilled, higher-paying work," he said.
But the report showed that the UK still has a relatively large number of people in low-skilled, low-paying jobs. Seven million UK jobs require no qualifications, while 26% of men and 35% of women earn below the median level of income.
Source:
Efficiency and Labour Market Polarisation
The Work Foundation
Review by: Nick Loney