Managing information in humanitarian crises
How do you optimize logistics when handling a major humanitarian crisis? How do you share information about transportation needs to best use available space in trucks or planes? How do you create smart maps with information about road capacity, accessibility and proximity to local population?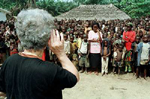 This case recounts how a website came to the rescue of the United Nations Joint Logistics Centre (UNJLC) when confronted by the growing logistics complexity of conflicts and disasters proliferating around the world, and follows the site's evolution in meeting this challenge.
Set up to coordinate the logistics capabilities of humanitarian agencies during large-scale emergencies, the UNJLC was born in response to the 1996 crisis in Eastern Zaire, which necessitated intensified coordination and pooling of planes and trucks among the UN High Commission for Refugees, the World Food Programme and the UN Children's Fund. Subsequently, it went into action in a number of countries including Somalia, Kosovo, East Timor, Mozambique, Afghanistan and Sudan.
The UNJLC began by designing a website for the humanitarian community operating in disaster-sticken areas. One of its main functions was to provide relevant and accurate information that could support humanitarian agencies, helping them to overcome bottlenecks and conflicts. It developed an online information management capacity to support negotiations and common activities - from the cost of transportation to the possibility of sharing vehicles, mobilizing goods or organizing airlifts.
The initial version of the website had a very basic design, interface and infrastructure to provide updates for field operations, the principal challenge being to disseminate information and ensure good communication. A second-generation website was created after the deployment of operations in Iraq in March 2003 when it became imperative to update information on the site in view of pressing security concerns. The website rapidly took on a forward planning role, providing advice on problems such as fuel forecasting and management.
But with operations in Iraq ongoing and another crisis developing in Liberia, the website became technically unmanageable, leading to major delays in the publication of information. This paved the way for a third-generation website with improved functionality including an intranet to allow team members to communicate and share files. The benefits of upgrading the website were demonstrated in subsequent operations around the world.
In particular, it enabled UNJLC to strengthen partnerships with similar information providers in the field. These different deployments convinced the UNJLC team that information management went beyond simple data processing or posting information: it meant developing strategies to share information with the entire humanitarian community.

Source:
Managing Information in Humanitarian Crises
Luk Van Wassenhove, Rolando Tomasini
INSEAD, 2005