Manchester United's brand is worth $98m less than last year
After a rubbish season, the former Premier League champions are also slipping down footballing rich lists.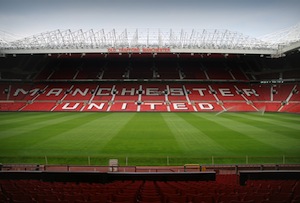 It's not been a season to remember for Man U: just one season after Sir Alex Ferguson bowed out as manager with the club atop the Premier League, the team ended up in 7th place, having unceremoniously booted David Moyes out after a mere 10 months in charge.

The failure to qualify for the Champions League will cost them an estimated £40-50m, which will likely see them continue to slide down the league of big money teams. No wonder, then, that the club's brand has also taken a beating: it's now worth $739m (£439m), $98m less than last year, according to consultancy Brand Finance.
However, with new manager Louis van Gaal taking charge after leading Holland in the World Cup and legendary player Ryan Giggs as his assistant, after finally hanging up his boots, next season could well be better for the Reds - in both sporting and financial terms.

German champions Bayern Munich are the most valuable footballing brand in the world again, worth $896m, while Spanish Champions League winners Real Madrid overtook Man U, with a value of $768m.

Barcelona hung onto 4th place, having finished above Real but below Atletico Madrid in this season's La Liga. Premier League champions Man City jumped three places to 5th.

Here are the top 10 most valuable football team brands:
| | | | | |
| --- | --- | --- | --- | --- |
| #2014 | #2013 | Team | Brand value 2014 ($m) | Brand value 2013 ($m) |
| 1 | 1 | Bayern Munich | 896 | 860 |
| 2 | 3 | Real Madrid | 768 | 621 |
| 3 | 2 | Manchester United | 739 | 837 |
| 4 | 4 | FC Barcelona | 622 | 572 |
| 5 | 8 | Manchester City | 510 | 332 |
| 6 | 6 | Arsenal | 505 | 410 |
| 7 | 5 | Chelsea | 502 | 418 |
| 8 | 7 | Liverpool | 469 | 361 |
| 9 | 10 | Borussia Dortmund | 327 | 260 |
| 10 | 24 | Paris St-Germain | 324 | 85 |