Mandelson attacks China
Peter Mandelson, EU trade commissioner, has railed against China for failing to tackle a 'tidal wave' of counterfeit goods, before weighing in with a warning over the country's safety record.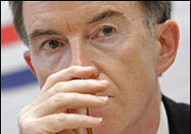 The former Labour man accused the Chinese authorities of turning a blind eye to the theft of European innovations and patents, in which Europe's music and films were routinely stolen and royalties going unpaid. He also warned that that consumer confidence in Chinese exports risks being shaken by recent safety scares. When Mandelson gets tough the Chinese may want to watch out: this is the man who unleashed a volley of punches at Alistair Campbell in an argument over Tony Blair's trousers, according to the former Labour spinmeister's autobiography.

You wouldn't exactly describe this as a good year for China's international trade relations. Mandelson's attack follows in the wake of the American backlash over lead paint in toys, exploding tyres and contaminated toothpaste. And the EU trade commissioner is not the only one getting angsty. Nicolas Sarkozy has also been throwing in his two centimes' worth.

While Mandelson was launching his tirade, the embattled French PM was lecturing China on the need to revalue the yuan and respect human rights. This after a high-profile spat earlier this year in which French giant Danone fell out with Wahaha over a trademark dispute, and the example cited by Mandelson of French electronics giant group Schneider, which was fined a record €31m by a local Chinese court for violating what it says is an illegal patent. Trading with China is increasingly being seen as a minefield. As, we can imagine, is handling the Asian giant's international PR.

The Chinese are, unsurprisingly, somewhat miffed, with vice-premier Wu Yi saying she was 'extremely dissatisfied' with Mandelson's food safety criticisms, and expressing her distaste at other countries 'politicising the issue'. Mandelson, however, probably has a point: he stated that China was responsible for almost half the EU's 1,000 early warnings on food and goods safety in 2006.