Mandy gets it in the neck as Royal Mail goes postal
The first two-day national postal strike began this morning - with Lord Mandelson stuck in the middle.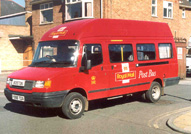 As last minute talks failed and the Royal Mail walkout began, business secretary Lord Mandelson was being heavily criticised for his role in the proceedings. It's not often we feel sorry for the Dark Lord, but since he seems to be getting blamed for taking both too much and too little interest in the affair, depending on who you listen to, we can't help but sympathise with him today.
The CWU has accused Mandelson of colluding with RM's marketing director Mark Higson and chief executive Adam Crozier, saying that the terrible trio purposefully blocked reconciliation in order to force a showdown. CWU deputy Dave Ward claimed that Mandelson was taking his revenge for the shelving of his part-privatisation bill in July.