Mandy races to Vauxhall workers' rescue
No compulsory redundancies at Vauxhall, after Magna, Merkel and Mandelson strike a deal.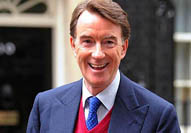 After Canadian car parts group Magna took over GM's European business earlier this year, there were widespread fears that, thanks to the efforts of chancellor Angela Merkel, Germany was going to get the best of the deal. Jobs over here, said the Jonahs, would be sacrificed to save jobs over there.
Now Business seccy Lord Mandelson has lent his considerable influence to the debate, writing a no-doubt strongly worded letter to EU Competition Commissioner Neelie Kroes claiming that such a cosy little deal on redundancies would be contrary to EU law.
This isn't to say that there won't still be some losses here: up to 600 jobs could still go at Vauxhall's Luton and Ellesmere Port factories through voluntary redundancy. But that's only half the number that some feared, and none of them compulsory.