Mandy's back - and he means Business
Gordon Brown has shocked everyone by bringing Peter Mandelson back into the Cabinet - as Business Secretary.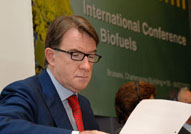 Mandelson, who's currently Britain's EU Trade Commissioner, is the most surprising beneficiary of the Prime Minister's latest cabinet reshuffle. It's another Lazarus-esque comeback for the man famously dubbed 'The Prince of Darkness' – he's already been sacked from the Cabinet twice, and given that he and Brown famously fell out spectacularly over his loyalty to Tony Blair, the chances of him getting another go under the present regime seemed remote. But now he's been called back from Brussels into the Cabinet as a peer (the only option, since he's no longer an MP), with responsibility for BERR – the latest incarnation of his old department the DTI.
Depending on who you believe, Mandelson's appointment is either a desperate sign of weakness from Gordon Brown or a visionary bit of inclusivity. Either way, it's a remarkable move, given that everyone knows Brown and Mandy spent years fighting like ferrets in a sack under Tony Blair. But according to the papers, the two men have kissed and made up in recent months, with Brown – apparently won over by Mandelson's sterling efforts to alienate other European leaders – becoming increasingly reliant on his advice on global trade.

One thing's for sure: there won't be many tears shed in Brussels about his departure. Mandelson's combative efforts to promote free trade in Europe – always a hard sell where the French and Germans are concerned – have led to a spectacular falling out with (amongst others) French President Nicolas Sarkozy. Put it this way: Mandy's leaving do in Brussels is likely to be about as well-attended as a Mike Ashley Appreciation Society meeting in Newcastle.
But there's an argument that his appointment to the Cabinet makes a lot of sense, as Labour desperately tries to engineer its own Lazarean comeback. For all that he divides opinion (MP Jack McConnell today called it 'an extraordinary step backwards into the worst elements of the Blair era' - and he's a Labour backbencher), Mandelson is renowned as a wily political operator and an excellent strategist ('far better at giving others good advice than in giving it to himself,' as the Guardian's Michael White sagely puts it). At the moment, Gordon needs all the heavyweight experience he can get, even from a man who doesn't know his mushy peas from his guacamole.