Manufacturing slumps 0.7% after Eurozone trouble
The weak sector is likely to give the Bank of England cause for thought.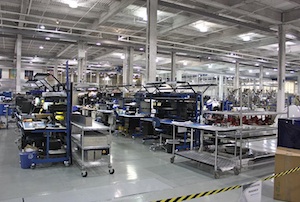 Britain's factories have been trundling along fairly well recently but in October the manufacturing sector delivered an unexpected slump in output of 0.7%, suggesting the recovery isn't quite there yet. The news surprised analysts, who were expecting 0.2% growth after the sector jumped 0.7% in September.

The slump, the biggest monthly drop since May, was driven partly by a 4.5% fall in the production of computer, electronic and optical products. Lee Hopley, chief economist at the manufacturers' organisation EEF, said that drag was largely due to Britain's exposure to the German electronics sector.

Chris Williamson, chief economist for financial information firm Markit, said, 'A sharp drop in factory output in October is a timely reminder that policymakers cannot be complacent about the UK's recent run of strong growth persisting into the New Year.'

He added that the news was likely to push back a decision on when to increase interest rates, as the Bank of England eyes a struggling manufacturing sector and a recovery too dependant on domestic demand.

The long-term trend was more positive, though. Manufacturing in October was up 1.7% on last year, although it still remains 5% behind its pre-crisis peak. Yet more food for thought for the Bank of England before the Christmas break.