Marc Bolland is the new chief exec of Marks & Spencer
M&S has nabbed highly-rated Morrisons boss Marc Bolland as its new CEO, to replace Sir Stuart Rose.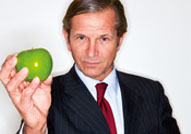 Marks & Spencer said today that it's managed to persuade flying Dutchman Marc Bolland to jump ship from supermarket chain Morrisons to become its new chief exec. Apparently Bolland will join around February next year, with Sir Stuart Rose moving upstairs to become part-time chairman (but only until July 2011). Judging by the effect on their respective share prices – M&S shot up, Morrisons plummeted (the total swing in value was about £600m, as a result of which Bolland has been dubbed 'the $1bn man') – the City sees this as quite a coup. And speaking of which, we're happy to report that MT had an in-depth chat with Bolland about his turnaround at Morrisons – and his interest in M&S – only a fortnight ago…

OK, so admittedly he didn't 'fess up to his imminent move (which probably still wasn't quite signed and sealed back then); when we asked him about it directly, he would only say (without a flinch): 'I'm having a lot of fun here; I'm very happy'. But the fact that his name was even being mentioned in connection with what's probably still the most prestigious job in UK retail shows how rapidly his star has risen.
When he took the ferry across the North Sea from Dutch brewer Heineken to run Morrisons in 2006, after founder Sir Ken Morrison was effectively elbowed out by shareholders, the City barely knew who he was. Three years later, having transformed the once-dowdy Northern chain into one of the retail stars of the recession (its sales and growth profit have outstripped all its major rivals), he is arguably the hottest property in retail.

The M&S job won't be easy for Bolland. Its high profile makes it a very different challenge to Morrisons, where expectations are probably lower. For all his retail success, he has very little experience in the rag trade. And filling Sir Stuart's capacious (and immaculately hand-stitched) loafers – particularly while the man himself is lingering in the background, looking over his shoulder – will be a very tricky undertaking.

But so far, Bolland has proved pretty sure-footed. Time will tell what he decides to do with M&S – which has faltered in recent months after Sir Stuart's great turnaround. But our interview gives us a flavour of the kind of approach he's likely to take: an evangelistic attitude, an obsession with service, customer-friendly store re-designs, a commitment to CSR, and so on. No wonder M&S shareholders are pleased. Though we dread to think how Sir Ken reacted…

Click here to read the full Bolland profile


In today's bulletin:
MT meets Marc Bolland - the new chief exec of Marks & Spencer
Archie Norman to the rescue at ITV?
Counter-bid rumours sweeten Cadbury share price
Mothercare (baby) booming as it plans expansion
Psychology at Work: Promoting well-being is not just a sticking plaster