March retail sales weather-beaten, says ONS
It's no surprise really: the unseasonably Arctic conditions in the UK in March drove people off the high street, with retailers taking yet another hit.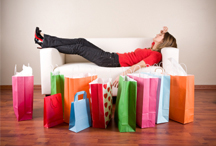 There were times in March when it looked as though winter might continue for many more months. Snow and Arctic winds were surely enough to keep people in their homes by the fire. And, unfortunately, the Office for National Statistics has corroborated this picture with the news that retail sales for the month were 0.7% lower than in February, and 0.5% lower than 2012.
In a statement the ONS said: 'Feedback from department stores, clothing stores and household goods stores suggested that sales were dampened by the weather, as they prepared their stores for the spring season.' It's worth noting that according to data from the British Retail Consortium earlier this week, the out-of-town retailers were hit less badly, with footfall down by 4.2%. Larger shopping centres – which are often entirely indoors – were down just 2.4%.
In fact, another thing worth pointing out is that there is some disagreement in the data here: the BRC's figures showed that overall retail sales were up 1.9% in March compared with the previous year. It doesn't take a nuclear physicist to work out that one is really bad news, and the other is actually OK. There's a 2.4% discrepancy here and it's impossible to know which statistician is right. It's probably fair to say that the ONS' 0.5% figure could be accounted for by the margin of error in actually collating data such as retail sales volumes.