Margaret Thatcher dies of stroke aged 87
Former Prime Minister Margaret Thatcher died this morning after a stroke, prompting a flurry of tributes and reactions to the dramatic effect her tenure had on the course of British history.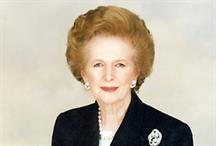 Lord Bell, who had received the news from her son and daughter Mark and Carol Thatcher, released a statement to the press. He said: 'It is with great sadness that Mark and Carol Thatcher announced that their mother Baroness Thatcher died peacefully following a stroke this morning. A further statement will be made later.'
Predictably, a media storm ensued and very quickly the news was trending worldwide on Twitter, as both her supporters and her critics sought to weigh in.
When Thatcher came to power in 1979, many claimed that the country felt in a state of inexorable decline, something which – albeit divisively and dramatically – Thatcher sought to reverse.