Market bloodbath as investors panic
The FTSE crashed by a massive 10% this morning, amid more huge losses around the globe...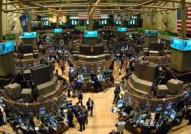 It's been a devastating 24 hours for the stock markets. Fears of a very nasty global recession have sparked massive panic-selling all over the world, destroying trillions of dollars in shareholder value. After huge losses in the US and Asia overnight, the FTSE plummeted by nearly 440 points in the first few minutes of trading, a 10% fall - and although it has since rebounded slightly, it seems pretty clear that despite the concerted efforts of finance ministers this week, the end of the current crisis is still a long way off...
The trouble all started in the US, where the benchmark Dow Jones closed down 7.3%, falling below 9,000 points for the first time in five years. Then Tokyo went one better (or possibly worse): the Nikkei tumbled nearly 10%, its third-biggest fall ever and the biggest since 1987, as insurer Yamamoto Life became Japan's first big financial casualty. Hong Kong, India, Australia, the Philippines – every market was a sea of red (Indonesia pulled the plug entirely and suspended its stock market).
So today's bloodbath in European markets may have been predictable – but it was more ferocious than anyone expected. Although the FTSE recovered from its early lows, it's still down around the 4,000 point-mark (down 300 points or 7%), while the French and German markets are also in the doldrums (and Austria and Russia suspended trading altogether). Here in the UK the banks have been hammered, as you'd expect, but so have the miners – indeed commodities are down across the board, including oil, while the pound plunged to another new low against the dollar. We think it's fair to say that this week's government interventions haven't exactly calmed investor nerves...