Markets plunge as US car bail-out breaks down
Stocks dive as the failure of a $14bn bail-out deal leaves the Big Three staring down the barrel...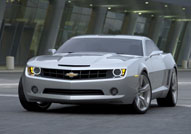 The US Senate rejected a $14bn bail-out plan for its auto industry last night, which leaves all three of the big US carmakers – General Motors, Chrysler and Ford – in imminent danger of bankruptcy. Despite backing from President Bush and President-elect Obama, the Democrat majority wasn't able to convince enough of their Republican colleagues that the handout would be accompanied by suitable reforms – and as a result the bail-out was voted down. The news has sent stock markets plunging around the world, not least because jittery investors have been dumping their shares in other carmakers…
Apparently the talks broke down after the United Auto Workers union refused to agree to Republican demands to take an immediate wage cut, which would have brought them into line with the pay deals offered by the carmakers' international rivals. Everyone knows that over-generous reward packages are one of the major reasons why the US auto industry is in this mess – yet the union, for whatever reason, seems determined to hang on to its existing deal, which is due to run out in 2011. The problem is that without radical action, their employers are unlikely to make it that far – so it's a bit hard to see why an overall wage cut is worse than everyone losing their jobs entirely.
And this seems to be a very realistic prospect. GM and Chrysler have already warned that they could run out of cash by the end of the year if they don't get a Government handout – in fact, GM has apparently already hired a team of lawyers as it prepares to file for Chapter 11 bankruptcy protection. Ford is marginally healthier, but it recently warned that the collapse of one of its rivals may suck it into insolvency too. And this would have sizeable consequences: the industry employs 250,000 people directly, but about 3m if you factor in every stage of the food chain. An industry collapse would do serious damage to the US unemployment figures.