Markets shrug as Fitch downgrades six banks
Six months ago, it would have been a disaster, but now, the markets have barely reacted. Is this the beginning of the end for ratings agencies?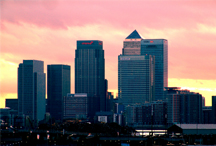 Eh up, the credit ratings agencies are at it again: this time, it's Fitch, the smallest of the three leading agencies, which has downgraded the ratings of six of the world's largest banks, including Bank of America, Goldman Sachs, BNP Paribas, Deutsche Bank, Credit Suisse and (most importantly, of course) Barclays. For those banks, it cut the 'default issue ratings', which calls into question their ability to pay debts on time – while another two, Morgan Stanley and Societe Generale, saw their viability ratings, which measures a bank's financial strength, downgraded. Which all sounds pretty dire – so why have the markets barely flinched?
Fitch isn't the first ratings agency to get its downgrade on in recent weeks – only last week, Moody's wielded its sword at France's three biggest banks (Societe Generale and BNP Paribas included). This is all because banks have been forced to take massive charges on some of the sovereign debts they're exposed to, which has caused worries that they won't be able to lend to each other.
In fact, in its release, Fitch was careful to note that the downgrades weren't actually down to anything the banks themselves were doing. It warned that although banks have been busily hoarding cash to create capital buffers against another credit crisis, new regulation introduced by the EU could mean their earnings potential is restricted and the costs of lending go up. So the message is that none of this is really the banks' faults.