Markets soar - and mortgage approvals rise
An unusually cheerful morning: the FTSE's up 5%, and new mortgages are up for the first time in a year...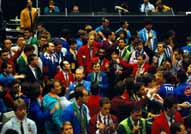 After a miserable week, European stock markets have all recorded big bounces this morning, as traders start getting excited about the prospect of more big interest rate cuts on both sides of the Atlantic. And just to add to this unusual glut of good news, the Bank of England said that the number of new mortgage approvals actually increased in September for the first time in more than 12 months. We can barely stand the excitement…
Analysts are expecting the US Federal Reserve to cut rates by another half percentage point (to a mere 1%) later today, which led to an impressive 11% jump on the Dow Jones index yesterday. As a result, there were big bounces on the Asian markets overnight (the Nikkei was up nearly 8%, for example), which in turn has fed through to Europe this morning: the FTSE 100 is currently up about 5%, while the French CAC 40 is up 7% (only the Germans are lagging, due to the Volkswagen fiasco). The idea seems to be that if the Fed cuts again, the Bank of England and the ECB will inevitably end up following suit next week.
There was also a slight bit of cheer for the housing market: the Bank said that 33,000 home loans were approved in September, the first month-on-month increase since June last year. Unfortunately for the pragmatists among you, this 'good news' doesn't really stand up to closer scrutiny: the August figure was a record low, with the Government's prevarications about stamp duty making what is always a quiet month even worse – and yet this September figure was only 1,000 higher. By way of context, there were more loans approved in September last year than there have been in the previous three months.