Markets surge as Brown plan goes global
Shares have soared around the world as the US and Europe adopt a UK-style bail-out plan...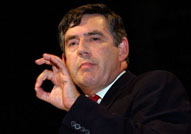 The US will announce today that it's setting aside $250bn of its massive rescue package to take equity investments in its nine biggest banks – including Citigroup, Bank of America and Goldman Sachs. The news sent Asian markets soaring overnight, which in turn has provided a big boost to European markets this morning. Like many European countries yesterday, the US has seemingly decided that the UK-style plan is the best way of getting us out of the current mess. After a year in which his economic reputation has taken a battering, that's quite a feather in the cap for Gordon Brown...
After the US Dow Jones index closed up 11%, Asian markets soared overnight, with the Japanese Nikkei posting its biggest ever one-day gain of 14%. This morning, the FTSE 100 is currently up about 175 points to 4,432, while the French and German indices are also up by about 4%. The gains suggest that all these state capital injections have finally restored a bit of confidence to markets that appeared to be in a downward spiral – even it did take several trillion dollars and the part-nationalisation of some private sector behemoths to achieve it…
One of the biggest winners from all this will be Gordon Brown. Seemingly dead and buried in the polls a few weeks ago, he's already enjoyed a bounce as the financial crisis went global – now, as the nominal architect of a plan adopted around the world, his stock is likely to rise even further. Yesterday, even the newly-crowned Nobel economics laureate Paul Krugman hailed the UK scheme as 'a combination of clarity and decisiveness [that] hasn't been matched by any other Western government'. The PM's been hailed in the European press for his skill in co-ordinating a response to the crisis (well, except by Icelanders). And today, he's self-consciously emulating Winston Churchill by calling for 'a new Bretton Woods' – a global summit of world leaders, like the one after the second world war. That's quite a turnaround.