Markets tank again as panic goes global
The FTSE follows other world markets southwards, as Gordon Brown claims we can spend our way out of recession...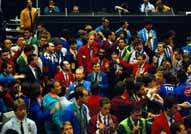 It's a new week, but there's no sign of the news getting any better: there have been more big losses on the UK markets this morning, after massive overnight drops in the Asian indices sparked yet another sell-off. It's becoming increasingly clear that the co-ordinated government action of recent weeks won't be enough to stop the rot – in fact, as the banks are being forced to reduce their risk profile, this reduced level of lending is having a painful knock-on effect all around the world. Ukraine and Hungary have already gone cap-in-hand to the International Monetary Fund – and they're unlikely to be the last...
The FTSE 100 certainly shows no sign of stabilising, despite the British government's well-received response to the crisis. It was down 218 points to 3665 at one stage this morning, another low of recent times, after waking to discover that Asian markets had plummeted again (the Japanese Nikkei index is now at its lowest level since 1982). The pound has also taken yet another hammering – after dropping through $1.60 for the first time in five years on Friday, it's currently down again to about $1.54. Recent comments from Mervyn King and Gordon Brown have made another big interest rate cut look inevitable – possibly as early as this week – so currency traders keep bailing out.
Indeed, it looks like nobody's going to escape unscathed from the current turmoil. Two of the biggest losers on the UK market this morning have been HSBC and Standard Chartered, which have thus far avoided the worst of the ordure thanks to their strength in the emerging markets of Asia – but now that the contagion from the financial crisis has clearly spread East, as falling demand depresses commodity prices, both are feeling the pinch: their shares were down 10% and 7% respectively this morning.