Markets tank amid European dis-Union
The FTSE plunged 6% this morning, as any thoughts of a pan-European solution to the financial crisis rapidly receded...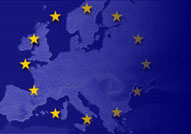 It's been another weekend of upheaval in the financial markets – and this time all the action's been in Europe. Following the Irish decision last week to guarantee all deposits, there did seem to be a move towards some kind of co-ordinated response, leading to Saturday's mini-summit between Germany, Italy, France and the UK. But it hasn't taken long for the entente cordiale to break down: faced with the prospect of their big economic institutions going to the wall, most European leaders seemed to have quickly decided that it's every country for themselves…
Naturally there's been lots of activity in the stricken banking sector. BNP Paribas stepped in to help rescue Fortis by snapping up its Belgian operations, Unicredit is in talks with investors about raising new capital, and fears are mounting about the future of the Icelandic banks (whose combined liabilities are about eight times larger than those of the entire country). But the most significant move as far as the UK is concerned came in Germany: after announcing a rescue of the rescue package for lender Hypo Real Estate, chancellor Angela Merkel seemed to announce that the German government would effectively guarantee the whole country's savings – a total liability of about £450bn.
The move sent governments around Europe into a panic – if this was the case, money would start flowing into German banks from elsewhere in Europe, putting huge pressure on everyone else to follow suit. And this would have been an expensive business for the UK government – according to the FSA, we Brits have squirreled away about £950bn, more than twice as much as the Germans. However, it now appears that Merkel isn't planning a formal guarantee as such – it was just a semi-official pledge to look after everyone's pennies, of the sort that Alistair Darling has been making in the UK. If so, there'll be sighs of relief all round - although given that the Danes have this morning guaranteed all their deposits (and Sweden and Austria have also upped their protection massively), the damage may well already be done as far as a unified approach is concerned...