Marks and Spencer profits drop 10%
The high street stalwart has reported a 10% fall in profits in its half-year results, blaming depressed clothing sales and a 'volatile' trading environment.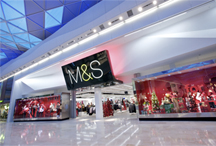 Marks and Spencer is having its toughest year in a while. Profits for the six months to September 30 fell 9.6% to £290m, with total UK like-for-like sales falling 1.4%. In its statement, the firm said recent 'volatile' trading, 'coupled with continuing pressure on consumers' disposable incomes, makes us cautious about the outlook for the rest of the year.' That essential Christmas retail push will need to yield results if M&S is to get back on its feet.
Nonetheless, investors were reasonably chuffed with the result, because the decline in profits was smaller than expected, and sales actually improved marginally in the second quarter. Shares were up 2% in early trading on Tuesday after the results were released. And anyway, almost anything is going to look good after the chain's performance in the previous quarter: like-for-like sales in general merchandise fell a massive 6.8% after stock management problems left it short of its popular women's underwear. That was the first time profits had fallen in three years.
But whilst the decline in sales appears to have slowed in this most recent quarter, the chain will likely have benefited from the so-called Olympic effect, which is obviously a one-off. Still, the chain has been taking steps in recent months to give its operations a boost: Kate Bostock (who was in charge during the clothing stock debacle) has been ousted in favour of John Dixon, who was previously head of the food business.