Marks & Spencer profits slip to £320.5m
This is no ordinary 8% fall in profit. This is an M&S 8% fall in profit.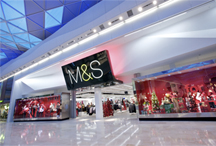 M&S' sagging growth in the first half is mostly down to declining consumer confidence and stagnation in the non-food side of the business. Chief executive Marc Bolland is still pretty chipper, however: 'Marks & Spencer performed well in the first half,' he says. 'Sales were ahead of last year despite tough comparatives and a challenging economic environment. Our food business in particular performed strongly.'

This may be the first drop in profits for two years but today's results haven't dampened investors' spirits either: M&S shares rose 4.1% in early trading.

Like-for-like UK sales overall are up 0.5% during the six month period; M&S has been chasing volumes at the expense of margins, discounting heavily to get customers through the door. Even so, this tiny sales increase is nothing to shout about and the retailer will be hoping for a better showing in the run-up to Christmas. The British Retail Consortium said today that there has been a 0.6% year-on-year fall in October sales across the high street: '[This is] evidence of the basic weakness of consumer confidence and demand, [which is] worrying this close to Christmas,' stated BRC director general Stephen Robertson gravely.

M&S isn't the only high street retailer feeling the pinch. Discount clothing chain Primark has been nobbled by soaring cotton costs, the warm(ish) weather, which has put consumers off binging on winter woolies, and wage inflation in China. It saw an 8% drop in adjusted operating profit to £309m this year.

But M&S' Bolland has a strategy for overcoming the apathy on the high street. He today announced 100 new food brands to bolster an already strong M&S Food business, a design collaboration with Richard James on menswear, as well as relaunches of the M&S brand and all its sub-brands. He is also taking the calculated risk of freezing prices to retain the existing M&S customer base, despite the effect on margins. 'We took a decision to invest in giving our customers better value, choosing not to pass on the full extent of the increases in commodity prices,' he explains.
M&S is spending a lot of money sprucing up stores and systems (despite the millions pumped in refurbishments by Stuart Rose not so long ago) - capex of some £700m is expected for the full year. M&S is increasing its European footprint too (slightly risky, we grant you), announcing a new store in Paris and a French e-commerce site in time for Chrimbo.
And Bolland has a few surprises in store for UK consumers over the festive season: 'We have a very exciting Christmas product offer for our customers with more innovation and choice than ever before,' he says obliquely. Overall, M&S is still in a strong position. M&S usually pulls its socks up at Christmas trading. Last year, despite the snow, turnover in the 13 weeks to the big day were up nearly 3%.