Marks & Spencer's clothes sales have fallen yet again
The retailer's profits are up but cutting costs could undermine its long-term success.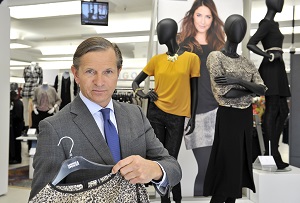 You have to wonder if Marks & Spencer's chief exec Marc Bolland sometimes wishes he had stuck to supermarkets. The former Morrisons boss has overseen a massive expansion of his company's food division but he's still struggling to get people excited about its clothes.
Today's interim results fit the pattern. The grocery sector is in choppy waters thanks to falling food prices, but M&S's food sales were up 3.3% in the 26 weeks to September 26, or 0.2% on a like-for-like basis. Things are going so swimmingly that it opened a net 26 new Simply Food stores in the period.
But sales of general merchandise, which includes homeware as well as clothes, were down 0.4%, and 1.2% like-for-like. It blamed that performance on 'unseasonable conditions' (i.e. warm weather) in the first quarter, and on its decision to offer fewer discounts in the second quarter. On the plus side that did improve its profitability – its gross margin for general merchandise was up 285 basis points to 56.6%.