Martin Sorrell defends his £70m pay package
UPDATE: The WPP boss is used to shareholder revolts over his salary - but Sorrell says it's all justifiable because he's worth it.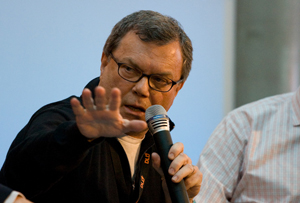 Advertising magnate Martin Sorrell may well be feeling a bit indignant, all things considered. WPP has just reported a 5.1% rise in quarterly revenues to £3.1bn, compared to last year. His company's performance isn't in question. And yet he's getting roped back into the executive pay debate following the furore over BP's Bob Dudley, who received a 20% pay rise for the year his firm suffered its worst annual loss, resulting in a shareholder rebellion.
Of course, Dudley's pay package of £14m pales in comparison to Sorrell's – which'll be up to £70m (much of it consisting of a £62.8m long-term bonus). The bonus takes his total earnings to somewhere in the region of £150m in just five years. Throw in the fact the High Pay Centre found that the average FTSE 100 chief exec makes 183 times the average full-time worker's pay and it's not hard to see why executive pay remains such a contentious flashpoint.
But as Sorrell reiterated on the BBC Radio 4's Today programme, his pay is clearly tied to the performance of WPP. 'I'm not embarrassed about the growth of the company from two people in one room in Lincoln's Inn Fields in 1985 to 190,000 people in 112 countries and a leadership position in our industry, which I think is important,' he said. So there. The debate surrounding exec pay may be getting fiercer, but Sorrell's been here before and fended off disgruntled shareholders.