Mary Portas unveils high street review
The retail guru is on a mission to save the British town centre from ruin.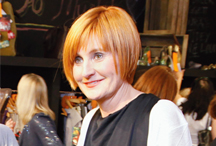 Mary Portas posted her high street review online at 10:30 this morning, and she certainly hasn't pulled any punches. Britain's shopping districts are in crisis, she says. 'Many are sickly, others are on the critical list and some are now dead.'
David Cameron asked Portas to look into the high street issue back in May. No one can say she hasn't been thorough. After six months of intensive research, she has called for radical action from government and local councils to stimulate enterprise and make it easier for people to set up shop and trade on UK high streets. The law must be nuanced, she says, to allow local authorities to give business rate concessions if warranted. Planning laws must be relaxed and licensing laws for market stalls must be simplified to allow ordinary people to start trading on the high street.
Speaking on the BBC's Today programme, she says, 'We've got car boot sales in some really horrible car parks off the M25. Why would you go there? Put them on the high street. It makes absolute sense.'