Maude drafts business leaders into Government
The Cabinet Office minister has unveiled a list of 31 business people to help Whitehall with its efficiency drive. Sounds good to us.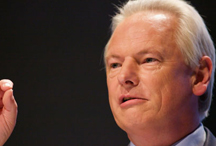 Cabinet Office minister Francis Maude has hit on the bright idea of drafting in various business grandees to help Whitehall cut down on its spending. Thus, last night, he and former BP CEO Lord Browne, appointed in June to come up with a list of likely candidates, unveiled the names of 31 non-exec types to head up the boards of various Government departments - with the remit to hire, fire and generally make savings as they see fit. It's an impressive list, including the likes of former Bupa CEO Val Gooding, GlaxoSmithKline boss Andrew Witty and Argos chief exec Sara Weller.

In a statement yesterday, Maude said the new recruits would be tasked with advising on performance, operational issues and 'the effective management of the department', as well as 'forming committees responsible for audit, risk and remuneration' (sounds like a laugh a minute) and ensuring 'Departments learn from the successes and failures of comparable organisations'. In other words, transforming Government departments into lean, mean, business-like machines.

And it looks like for the large part, the new advisers will be doing it out of the goodness of their own hearts: they'll be paid a salary of £15,000, with an additional £5,000 for those who take the lead role on each board. Maude even added (rather slyly) that some may wish to 'choose to waive the fee'. Clever move: after that kind of statement, anyone who doesn't waive their fee could risk coming across as lacking in public-spiritedness…

There are some concerns, though. For a start, while Maude may be (justifiably) proud that 13 of the names on the list (that's 42%) are women, it doesn't necessarily reflect other areas of society. And while he claims it's a 'radical shake-up' of Government departments, only 17 of the directors are new – others are already serving on departmental boards.

Also, Maude has made much of the fact that 'we are making it quite explicit that where permanent secretaries fail to properly implement government programmes, non-executives will be able to ask for their dismissal'. But Jonathan Baume, the general secretary of the FDA union of senior civil servants, points out that 'there has always been the option for the prime minister and cabinet secretary to remove a permanent secretary if there are issues of performance or relationships breakdown'. So has much really changed?

Still – those are minor gripes. It's not difficult to see the positive side in all this: in the long-term, any attempt at introducing more businesslike practices in Government should reap the benefits. Within reason, anyway.
- Can Maude succeed? Find out why Government isn't always like business