MBA Mastermind: Keegan Cotton of SunDial Power Pods
FUTURE LEADERS AWARDS: In our search for the rising stars of sustainability, Keegan Cotton, the co-founder and vice-president of SunDial Power Pods, wins the MBA Mastermind category for his innovative power generators.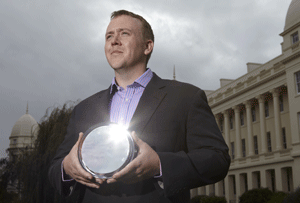 Keegan Cotton, 34, is what you'd call an adventurer. A typical sales pitch for his solar and battery-powered generators might involve driving in an open motorboat two hours down a Nigerian river, followed by a three-kilometre hike through a mangrove jungle.
The Texan is a former US army officer who has served in Germany and Iraq, most recently as an economic development officer. 'The US Department of Defense is the world's single biggest consumer of fossil fuels,' says Cotton, explaining that most diesel used by the army in Iraq is for generators. He started thinking about the problem after he left the army, which he did in order to 'make a bigger impact outside the organisation'.
He decided to move to London and enrol on the MBA course at London Business School, which he completed in 2007. Three years later, he co-founded SunDial Power Pods, which produces containerised, mobile, renewable power generators for remote, off-grid environments. 'They produce 24/7 power that can be used in the most remote places for villages, governments, companies, aid agencies and other organisations,' says Cotton.