MBAs the alternative way
You don't have to spend hundreds of thousands of pounds to get a business education. Short or online courses might suit you better.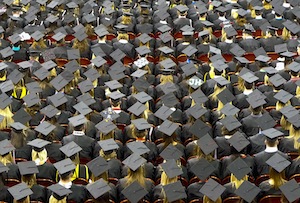 It is a truth universally acknowledged that MBAs are expensive. A two year course at London Business School or one of its top-drawer US equivalents will set you back as much as £100,000 once living costs are taken into account.

The potential career and salary boost of two years learning in a hothouse of equally ambitious, driven students is also well-documented. However, for those who want a business education, but can't or don't want to risk spending so much time and money (or whose company won't fork out for a full degree) there are increasingly other ways.

Executive education - one or two week courses, or an equivalent number of single days over a longer period - can provide a shot in the arm for someone who needs to fill a gap in their business education or could use some guidance in a new leadership role.

People considering whether to do a full-blown MBA later in their careers (usually an Executive MBA) need to answer the question, 'Do you have ambitions to run the whole place or not?' says Ashridge Business School chief executive Kai Peters.

If rising to the very summit of the organisation is not your main priority, maybe something a bit quicker, more targeted and cheaper could be for you. 'Shorter courses can just be for specific needs,' he says. '[For example], I have a team of 20 people and I need to think about how I interact with them in a better way or formulate better strategy for them.'

Executive education courses provide speedy, highly-focused training compared to full masters courses, says Steve Thomas, professor of finance and EMBA course director at Cass Business School. For companies investigating whether to put their staff through executive education or MBAs, confidentiality is another benefit of short courses that are specifically designed for a business, which range from need-to-know technical training to tailored strategy sessions.

'If you want to keep your thinking very free, very unconstrained within your own firm then it's executive education' that will suit your company, Thomas says.

However, for those who want a broader business education, time, location and money still hold many people back from the classic full-time MBA. Distance learning has filled some of that demand until now, but the internet is opening up a whole new arena - Massive Open Online Courses (MOOCs).

The pitfalls of online courses are fairly obvious, including missing out on the class discussions, networking and mentoring that on-campus MBAs offer. 'On the internet you can waste a lot of time chasing down dark alleys that lead absolutely nowhere,' Peters adds. However, leading universities like Stanford and Yale, sensing a good marketing opportunity, are now putting courses online. They're free, although some will charge you $50 (£30) or so each for a certificate of completion.

The University of Pennsylvania's Wharton School went as far as to put four 'foundation' courses in accounting, corporate finance, marketing and operations management on online platform Coursera last September. The courses are more suited for pre-MBA students or those wanting to brush up on topics between classes, rather than being an 'MBA equivalent', says Don Huesman, the managing director of the school's Innovation Group, although they can still be used 'for people to advance their careers'.

However, he admits there is uncertainty. 'There are many more rounds in this particular game to see how this finally... reshapes the traditional, on-campus MBA programmes.'

The first round of students attempting these new online courses, including Laurie Pickard (see below), are yet to finish working their way through what is currently available, so the full impact of self-motivated, free internet learning is yet to be felt.

Nonetheless, along with executive education, MOOCs are increasingly widening the choices available in business education. As Peters puts it, for students, 'It's really about finding the right medicine for whatever ails you at the minute.'
---
Case Studies
---
Strategy boost
Jon Sidwick, European director, TD Maverick
I've been involved in running a business for 16-17 years where I've no formal training, I've just managed to build a business through luck and some judgement. I was given the challenge of growing the business across Europe. To do that, I wanted to ensure that I had the capability to construct the right sort of strategy to be successful and I had no other idea whether I had or not.

After a couple of years, I felt that the toolkit I had could probably do with an overhaul. The company was already talking to Ashridge about a senior executive programme and I came to them with a need, so it was an opportunity from both sides. The programme was four three-day sessions over 18 months with 20 people from a variety of different businesses, so I was testing my capability and skill set against a peer group of people from a diverse set of industries.

A year on, we're actually complementing ourselves on having a very robust European model. I've used a lot of the structure provided by the course, as well as some of the skills I've learnt. I now have a set of capabilities that is transportable across industries.

If I have the time, and hopefully if my career develops, I would love to do a full MBA. Both types of business education have definitely got a place in the market.