McDonald's to open 1,000 new stores
McDonald's aims to open 1,000 branches this year. But is the burger giant 'lovin' it' in the recession?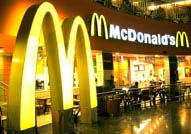 Yes and no, as it turns out. The hamburger chain, the world's largest, has revealed plans to invest $2.1bn in its stores, both in opening new branches and revamping existing ones. But at the same time its figures hardly reflect a company that's looking to 'go large': fourth-quarter net income fell 23% to $985.3m, from $1.27bn a year before. Revenue also fell to $5.57bn from $5.75bn, as the firm was hit by a strong dollar in many markets, including Britain and Australia.
But while profits may have taken a hit, you can't take anything away from the company when it comes to pulling in the punters. Global same-store sales were up 7.2% on last year. Which is hardly surprising - the McDonald's model is perfectly placed to appeal to people on a budget. Restaurant bookings may well be abandoned in favour of a cheeseburger, fries and Sprite from the local Mickey D's; and, if it's been a particularly good week, perhaps even splashing out on the odd McFlurry.
So you wouldn't expect demand to be a huge concern at McDonald's. But that's not what emerged from the Kansai region of Japan last month: when the company launched its famous Quarter Pounder there, it emerged 1,000 people had been paid to join the queue. Still, even if the company's results haven't quite met expectations, the brand is still pulling in enough to keep Ronald McDonald in stripy tights for a while yet.