McDonald's overstated turnover by £132m thanks to stray decimal point
Oops. The restaurant chain's UK subsidiary missed a decimal point in its 2013 results.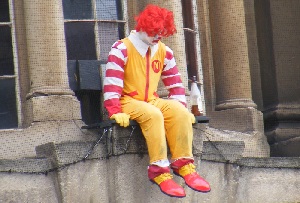 McDonald's UK subsidiary has Egg McMuffin on its face today, after revealing it had overstated its 2013 turnover by £132m. In accounts filed at Companies House, the firm was forced to admit it had missed a decimal point when putting together its 2013 results, which led to it reporting £1,498m in revenues, when actually the figure was £1,365m.
There's no question of duplicity here – by all accounts it was a genuine mistake, and the error had no impact on profits. Nonetheless, it is rather embarrassing. A stray decimal point may not be much between friends, but it is between accountants.
Company accounts get checked to death before they see the light of day, and for a company of this scale such an error is rare to say the least. It's the equivalent of a newspaper or magazine printing a typo on their front page (here's looking at you, Daily Express).