McDonald's worker gets £3,000 payout after chocolate sprinkles sacking
A furious teenager wins £3,000 from McDonalds after being sacked for sprinkling too much chocolate on a McFlurry.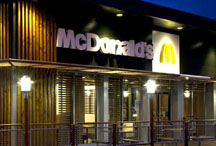 McDonalds has learned the ramifications of dealing with a disgruntled teenager. Sarah Finch, 19, who worked at a branch in West Wales took McDonalds to an employment tribunal and was awarded £3,000 after claiming she was unfairly dismissed. The former McDonalds worker had been fired for gross misconduct after giving extra chocolate topping to a workmate on a 99p McFlurry.
'The matter was trivial, in that I provided a fellow employee, who was purchasing a dessert, a generous sprinkling of chocolate pieces,' she said. 'There is no standard for such measures - they are always imprecise and will vary among customers. My colleague had asked me: 'Make it a nice one'.
'So the measure I gave erred on the side of more than, rather than less than the mean.'