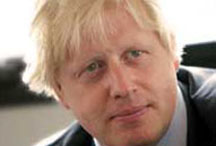 Me? Prime Minister? I'm more likely to be reincarnated as an olive
Quote of the day: Boris Johnson continues to refute claims that he is planning to make a play for David Cameron's job. 'My chances of becoming Prime Minister are only slightly better than being decapitated by a frisbee, blinded by a champagne cork, locked in a fridge or being reincarnated as an olive,' he says.
Published: 06 Jun 2012
Last Updated: 09 Oct 2013
.
Find this article useful?
Get more great articles like this in your inbox every lunchtime