'Mea culpa,' says Berlusconi as Mario Monti's resignation sends Italian markets into disarray
Italy's technocrat PM Mario Monti is to step down and former Prime Minister Silvio Berlusconi is after the top job again. Unsurprisingly, the main Italian stock index fell 3.1% at the news.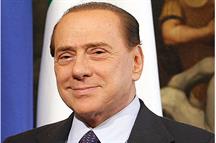 It's official: Monti will resign once next year's budget has been passed. The original date for this meeting was set for April 2013, but could take place much sooner now that Berlusconi's People of Freedom party has withdrawn all support for the existing government.
The markets are in uproar over the decision as Monti, an economist who has stuck rigidly to the terms of Italy's austerity package, has been viewed as a calming influence amid the financial turbulence. Unlike Mr Bunga Bunga, with his anti-Europe sentiment (anti-German sentiment, to be specific - Merkel must have coughed up her muesli at the news), who has little regard for 'austerity'. The mere mention of his name has sent the yield on Italian 10-year bonds up by 26 basis point, to a two-week high of 4.8 %. No one truly believes that, if re-elected, Berlusconi would continue with Italy's rigid austerity measures and keep borrowing under control.
As David Thebault, head of quantitative sales trading at Global Equities, concludes: 'Monti is the one who managed to stabilise Italy and stop the contagion from Greece. His surprise resignation brings back the political risk in the equation, something we had forgotten about.'