Media Studies 'the UK's second-most employable degree'
Official figures show that behind Medicine, Media Studies is the degree most likely to land you a job.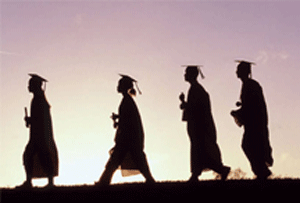 Figures published today by the Office for National Statistics show that medicine is the UK's most employable degree, closely followed by media studies (so that puts an end to all those media studies jokes, then). In third place is 'subjects related to medicine'; followed closely by technology, agricultural sciences and architecture.
Source: Labour Force Survey - Office for National Statistics
---
However, it's not all good news for media studies students. Whilst those graduates with an undergraduate degree in media and information studies had the second highest employment rate, they also had the lowest average gross annual wage - earning £25,000 below that of a graduate with a degree in medicine or dentistry.

The top-paying degrees are medicine, with an average salary of £46,000 a year. Engineering graduates can expect to take home more than £40,000 a year, while environmental scientists and architects can expect to earn a career-average salary in the high £30,000s. In last place on the pay scale, media studies graduates earn an average of £21,000 a year.
Of science graduates, those with a degree in biological sciences were the least likely to be employed and had the lowest average gross annual wage. 'This may reflect the fact that 35% of them were working in non-graduate roles,' the ONS said.

Those with a degree in the arts had relatively low employment rates and relatively low average gross annual pay. 'This again reflects the fact that 40% of graduates with an undergraduate degree in an arts subject were working in a non-graduate role,' according to the ONS.

The report, Graduates in the UK Labour Market 2013, says there were 12 million graduates in the UK in 2013, marking a steady rise in the number of graduates over the past decade. But the number of recent graduates in non-graduate jobs has risen from 37% in 2001 to 47% this year.