Meet the 12 startups joining Tech City's Future Fifty
The programme's new intake is dominated by financial tech firms including Transferwise and Ratesetter.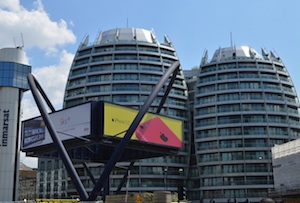 Financial technology ('fintech') businesses dominate the new intake of the Tech City Future Fifty, the quango's programme for nurturing British tech companies with big potential. The twelve new members, announced today, also includes startups from the world of education ('edtech'), advertising (you guessed it - 'adtech') and ecommerce.

The programme, designed to nurture Britain's growing technology companies, has had mixed success in the past, but some of businesses which got involved have emerged as big players. These include Zoopla, Just Eat and AO World, all of which floated this year.
'The new companies selected for the Future Fifty programme represent some of the nation's most exciting and innovative digital businesses, said Philipp Stoeckl, director of the programme. 'The Future Fifty team looks forward to working closely with these new companies to help them reach the next stage of their growth journey.'
The full list:
Adzuna
Founded in 2011 by former Gumtree executives, Adzuna aggregates job listings from thousands of job boards in an attempt to list 'every job, everywhere'. It serves 11 countries on four continents.

Algomi
A data network for traders of fixed-income securities, Algomi has received funding from Lakestar, an early backer of Facebook, Airbnb and Spotify.

Busuu
Busuu is a social network for learning languages with 50 million members. As well as providing conventional learning materials it connects users with native speakers around the world.

Go Cardless
Go Cardless's software aims to make it easier for businesses to collect direct debit payments online. In January it secured $7m (£4.5m) of investment led by Balderton Capital.

JustGiving
If you're a charitable soul then chances are you've donated to a colleague's fun run or your kid's sponsored silence through JustGiving, which has helped people in 164 countries raise over £2.1bn since being founded in 2001.

LMAX Exchange
LMAX provides foreign exchange trading facilities for individuals, brokerages, funds and banks. It was named Britain's fastest growing tech business in the Sunday Times this year.

Performance Horizon
A marketing platform that connects publishers with advertisers for the purpose of affiliate marketing (where publishers like news websites direct readers to a brand's website for a fee).