Published: 07 Oct 2016
Last Updated: 07 Oct 2016
I'm currently in the frustrating process of looking for somewhere new to live. Being a member of 'generation rent' and an occupant of our great capital, that means finding a room in a shared flat. My search didn't begin well – the first property I visited had a front door that didn't always lock ('sometimes we just put some boxes in front to keep it shut'), the distinct whiff of cannabis and something murky lurking in the kitchen sink.
But the process has been a lot more straightforward than it might have been 20 years ago, when flathunters had to rely on ads in the local paper and newsagents' window cards.That's thanks to websites like SpareRoom, where tenants and landlords can list the rooms they have available online and those looking for somewhere to live can easily search by price, location and number of flatmates, among a bunch of other criteria.
Founded by budding musician Rupert Hunt back in 2004, the profitable start-up has grown to dominate the market for flatshares in the UK and now it's launching nationally across the US to make it easier for Americans find a place to hang their hat.
Hunt's first foray into starting a web business came in 1999 after he moved down to London in the hope of making it big with his band. Spotting an opportunity to move property marketing from shop windows to the internet he put his optional university module in web design to good use, building IntoLondon.com. 'I spent months developing a fancy platform for estate agents but in the end it was the flatshare thing that took off,' he tells MT.
After ditching his part-time job at Tesco and moving back to his native north-west, Hunt discovered that flatsharing was becoming a common thing around the country and decided to launch a national website - SpareRoom. Rather than having to go through the rigmarole of selling banner ads, the website makes its money from its users.
Users can search through its listings for free but to respond to ads posted within the last seven days they need an upgraded account – which costs £10.99 for seven days or £23.99 for 30. 'I remember saying to somebody, "If I can just get this to £20,000 a year I can completely focus on this and do more of my music." But this completely took over my life.'
The company has grown pretty rapidly and now has revenues of more than £6m and employs 70 people, split between its HQ in Macclesfield (that's in Cheshire, for those of you have never passed beyond the M25) and a smaller office in London. 'We're growing around 15-20% per years,' says Hunt.
Unusually for many fast-growing tech start-ups, SpareRoom is making a tidy profit of more than £3m per year – a pretty hefty pile of cash. Hunt partly credits this success to his refusal to take on external investment. 'We're bootstrapped from nothing,' he says. 'I think it was a big factor in my success – it forces you to be creative and resourceful, whereas other peoples' money is too easy to spend foolishly, or lazily.'
All was going well with the business but Hunt hit a rut in 2011. 'I was losing my way a bit. We'd done so well and achieved what I wanted to achieve, we'd smashed the competition. But it felt like I was spending all my time just maintaining that position and dealing with the growing pains of a business that was one moment just a few people and all of a sudden there was 50 of us.'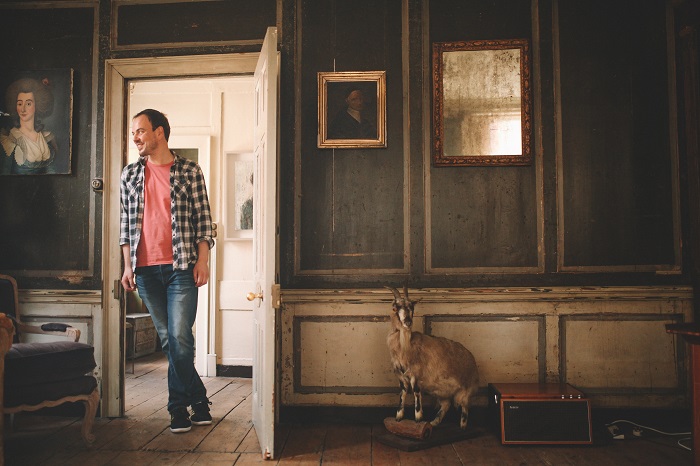 But 2013 was a turning point. After splitting from his wife Hunt needed to find some flatmates of his own - and used his own website to do so. 'It was incredible market research – it completely changed my outlook on the product, what was important, what was missing. It made me completely fall in love with the business again.' He has continued to use the site to find new flatmates to fill his eccentric Spitalfields home (pictured), charging them what they feel can afford to pay and drumming up some nifty PR in the process.
Now he's looking for flatmates for a loft in Manhattan, as he's heading across the pond with $6m (£4.9m) of SpareRoom's cash in his pocket to roll out its service across the US following pilots in New York, San Francisco and LA. 'The closer you can get to your customer the better,' he says. 'We've been doing New York from a distance and there's only so much you can do without being able to really get under the skin of it.'
Things seem to be going swimmingly, but does Hunt ever regret not sticking to music? 'No. I wish I'd found time to carry on more than I did, but there's still plenty of time for that.'