Meet the entrepreneur keeping Olympians warm in any weather
Gideon Bright's Dryrobe has proved a hit with everyone from surfers to dog walkers.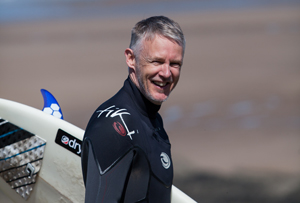 You have to be fairly tough to brave the elements as a UK surfer all year round as Gideon Bright would tell you. 'It's a problem for everyone, that freezing cold changing in a car park,' he says. It was these chilly experiences that led to Bright setting up Dryrobe, a business creating outdoor changing robes.
'The idea came from a product my mum made for me when I was younger,' the surfer says. 'It was a variation of the towelling robe a lot of people use for changing on the beach. She noticed I was getting soaking wet when it rained and was still cold while wrapped up in it, so she made a version covered with tent material.' It wasn't until years later he decided to turn his mother's creativity into a business. Even then he didn't quite realise what the demand would be and not just in the surfing community. Bright doesn't disclose the company's turnover except to say it has surpassed the £1m mark.