Meet the entrepreneur who wants to charge up the electric car market
Erik Fairbairn hopes POD Point will get the wheels in motion for mass take-up of electric vehicles.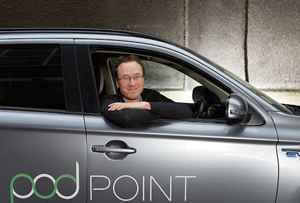 You might not expect the founder of a supercar club renting out Ferraris to move into the world of electric cars, but Erik Fairbairn felt he had some making up to do.
'I did once calculate the total amount of carbon emission that my supercar club [formerly ecurie25, now Auto Vivendi] created and it took POD Point over four years until we'd offset the same amount of carbon through electric vehicles,' he says.
POD Point is Fairbairn's current venture – billing itself as 'wiring up the UK for the electric vehicle revolution'. The 65-strong team is working on a public network and has shipped over 20,000 charge points to date, leading to 300 public bays being set up. It sells points to supermarkets, home offices and destination points, including David Lloyd and Heathrow and also leases points from £40 a month. The company sells chargers for home use too. The government has a £500 grant for home units, which covers around half the price - POD Point sells them from £390 and offers installation.