Meet the entrepreneur who wants to wash your dirty knickers
Ed Relf's 'Uber for laundry' has raised more than £4m to take on the humble washing machine.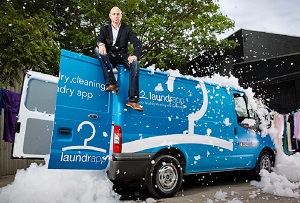 From taxis to takeaways, start-ups have used online tech to reinvigorate entire industries in the last few years. What Uber has done for transport and Just Eat has done for food, Laundrapp wants to do for the admittedly less sexy field of washing clothes.
Customers book a slot with the start-up's app and then their clothes are collected by a delivery driver, who returns them a few days later after they've been cleaned. Officially launched in January, the company has since raked in a hefty £4m investment, notched up 175,000 app downloads and washed around 700,000 garments. CEO Ed Relf launched the business on the suggestion of the firm's now-chairman, Dominic Perks.
'I think the penny-drop moment really was when I walked down my local high street where I live in north London and realised that every single one of these businesses had been revolutionised by digital in one form or another - whether it's the bank or the bookmaker or the supermarket,' Relf tells MT. 'I got to the dry cleaner on the corner and realised, "goodness me, actually there's a massive opportunity here".'