Meet the entrepreneurs chasing eBay's auction throne
Dutch start-up Catawiki has enjoyed 45,000% growth in four years - and now it's expanding to the UK.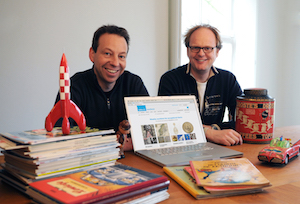 Online auctions are nothing new - eBay celebrated its 20th birthday this year, believe it or not. But as the tech giant has moved away from its roots, towards a more general focus on ecommerce, it has left a gap in the market. One booming Dutch start-up is hoping to fill it.
Online auction house Catawiki has quietly been picking up steam. It landed an $82m (£54m) funding round earlier this year led by Lead Edge Capital (which has also backed Alibaba and BlaBlaCar); the third-highest single investment ever raised by an internet start-up in the Netherlands. And earlier this month it took the top spot in Deloitte's Technology Fast 500 EMEA.
CEO and founder René Schoenmakers, an avid comic book collector, launched the site in 2008 after finding that eBay was too cumbersome to peruse when he wanted to update his collection. 'You had to spend lots of time browsing through pages, looking through comics that just weren't special enough.'