Meet the entrepreneurs teaching students how to find decent digs
Uniplaces is on a quest to become a global platform for students to find accommodation.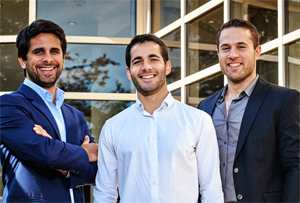 There are many fun things about going to university – from student discounts to marathon drinking sessions. But finding accommodation isn't one of them - as Ben Grech, Mariano Kostelec and Miguel Amaro found out the hard way before starting university.
'As a domestic student I just found my house by walking around the streets of Nottingham which wasn't a really great experience,' Grech says. 'Mariano and Miguel as international students had even more problems. Mariano had to pay 12 months of rent upfront when he moved to London and Miguel just went to a residence as he didn't know what else to do and then found out he was being charged a lot to stay there and could've found much cheaper rented accommodation elsewhere.'
The trio, who fittingly met at Nottingham University, realised 'just how far behind the student market was', particularly after looking into the holiday accommodation market and seeing the scope of tech and simplicity with online payments there. So in 2012, after Grech's stint in a private equity firm, they launched student accommodation platform Uniplaces.