Meet Joseph Valente, the entrepreneur who won over Alan Sugar
The plucky winner of The Apprentice 2015 has big plans for his plumbing and heating firm.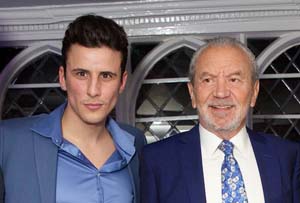 Many contestants on The Apprentice claim to have done their research before applying for the programme, but few would have the confidence to claim they know Alan (that's 'Lord' to you) Sugar's autobiography 'from cover to cover'.
So the producers were probably rubbing their hands together with glee when Joseph Valente strutted into auditions, dubbed himself 'the definition of success' and proclaimed, 'If Richard Branson can do it, if Donald Trump can do it, if that guy from Facebook can do it, then I can do it.' And yet despite what seemed the obvious potential for comedy gold, Valente not only proved himself to be a credible candidate, he won the whole shebang.
'I think I was at an advantage when I applied for the show,' he says. 'I portrayed myself to be a businessman who probably wouldn't be taken seriously and people thought I was a joker from the comments I'd made. But realistically, I knew I had what it takes and could back what I was going to do. I'm a very confident person, I believed the day I filled out that application form that I was going to win.'