Published: 26 Jun 2017
Last Updated: 15 Jan 2020
Photography by Harry Borden
Delhi is hot in May. Forty-three in the shade. (That's 109.4 in old money.) The weather.com site describes the pre-monsoon conditions as 'dust'.
In the Indian capital's business suburb of Gurgaon things are, indeed, pretty dusty - the place is one massive building site and heaving with honking traffic. This is what an economy growing at the enviable rate of just over 7% looks like.
In the air-conditioned gym of the Westin hotel, Mary Turner is pounding away, as she does for an hour each day when she is in Delhi, as opposed to her London office in Kingsway. She does alternate weeks in each country. 'Most of the people with whom I work are half my age or less. I couldn't stand the thought that I might walk more slowly than my staff.'
Turner, the Queen of Speed, is the CEO of Koovs, which bills itself as 'the fastest- growing fashion company for the young style-conscious consumer in India'. The sub-continent's equivalent of ASOS sells Western fashion, designed in London, for aspirational Indian women and men. The site started out life as a sort of Groupon collective buying hub for electronics, based in Bangalore, but in 2013 was subtly remodelled by Anant Nahata, the scion of one of India's telecoms dynasties. Thanks to some noisy advertising and tie-ups with Bollywood stars, Koovs now has an 18% recognition rate in a country of 1.311 billion, 74% of whom are literate. It is chaired by UK peer Waheed Alli and the board includes Emily Sheffield, the deputy editor of British Vogue (and sister of Samantha Cameron) plus Dame Gail Rebuck, who chairs Penguin Random House. Turner has been the boss for 20 months.
The management also includes some big- hitters from the UK fashion business. Robert Bready, Turner's chief creative officer, did the same job at ASOS and previously worked at Arcadia. (Two more different managers - Philip Green and Mary Turner - one couldn't possibly imagine.) It's unlikely he's doing it for the money as he made many millions at ASOS. Likewise Samantha Chilton was head of design at Primark before embarking on her regular trips to India.
Outside the Koovs warehouse, a family of pigs snuffle around in the rubbish as the heat rises. E-commerce in India has other elements that Mike Ashley of Sports Direct might find interesting. While Ashley is on the end of brickbats about zero hours contracts and lavatory breaks, the temp agency operatives at Koovs are on 400 rupees a day, which is about £4.74. All items which arrive from the garment factories - 80% are Indian made and 20% Chinese - are removed from their plastic bags, checked and placed into another clean Koovs bag before gift-wrapping. (The dust again, apparently.) Logistics aficionados will also notice that there are no pallets or lorry bays. Couriers who arrive to collect parcels walk up the steps and carry their cargo out.
But the aspect of Koovs that might most surprise Ashley is that around half its orders are cash on delivery. The buying may be done with finger clicks but the delivery guy on his moped often collects hard currency. India still loves its cash and was shocked by last year's sudden 'de-monetisation'. The attack on India's massive black economy was announced in early November and was deliberately designed to catch most Indians off guard. The prime minister Narendra Modi declared an immediate ban on the use of 500 and 1,000 rupee notes - 86% of India's circulating cash supply - and ordered that they be taken to banks by the end of the year to be exchanged for new notes, but only after they had been recorded. (To put it in context, that's like the Bank of England taking out all our fivers and tenners). Many Indians decided they would rather spend the cash than admit it was theirs. It's not hard to see where Modi's problem lies: just over 1% of Indians fill in an annual tax return.
Koovs says it took de-monetisation in its stride. The business while relatively small - it turns over £19m - is growing at 87% annually and already has an AIM listing in London, although the share price has done a rollercoaster since from £2.11 down as low as 12p and now around 40p. Currently loss-making, break-even is predicted for the end of 2019. There is much to play for. E-retailing in India is booming - a $15bn market is due to grow to $60bn by 2020. The country's demographics do, indeed, appear enticing. The middle class is due to double in size to 325 million by 2020. (At the other end of the social scale, half the population still lacks access to a basic lavatory.)
Many of these new bourgeois live in the cities and metropolitan areas, which are growing at a considerable pace - Delhi has 13 million souls, Greater Mumbai 17 million. Indeed 35% of urban households are middle class. Most importantly of all, 43% of India's population is aged between 15-39, Koovs' target market. The site recently acquired the Hindustan Times group as a minority shareholder. Newspapers may still sell like hot cakes in India but you need to hedge for the future.
Mary Turner must believe success is around the corner - she takes no salary, preferring share options and now owns about 5% of the company. Small, slight but packing a punch, Turner is a serious talent while remaining fun. She's gossipy, likes a post-work Margarita and is possessed by some real drive. The only question is why we haven't heard of her before.
With a name like Mary Turner she sounds slightly home counties or even Plymouth pilgrim aboard the Mayflower. But her name belies an exotic background. She was born and brought up in Malaysia, the daughter of a one-time stowaway from India who worked for United Plantations until he developed an entrepreneurial streak in his 40s and went out growing on his own. Her mother was one of nine kids with a father who'd been a captain in the British army, serving everywhere from Leningrad to Rome.
You don't have to delve far to get an idea of where her drive and her urge to succeed comes from. 'I was the classic middle child in an Asian family and my older brother was the only boy. So, for my parents, it was, 'meet my beautiful son and my brilliant little daughter. Oh ... and yes. That's Mary ...' That's where my personality comes from. I had no natural place and was only a worry about where a dowry for me might come from. It left me with a strong desire to get away and be independent.'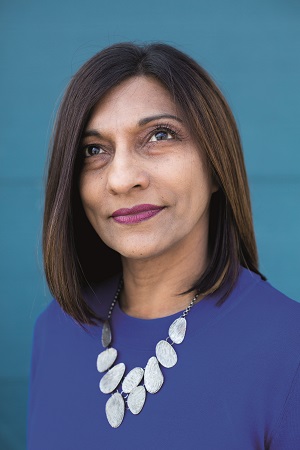 After nagging long and hard, she got her father to agree to send her to university in the UK: Birmingham where she read for a BSc in Management Science. (Her younger sister went to the rather more glamorous Berkeley in California.) After graduation in 1982 she was taken onto the Ernst & Young trainee scheme and they found her such a live wire she was placed on the milkround team. 'I was female, ethnic and could sell - they wanted more women recruits.' On the side, she waited tables, did book-keeping and tutoring; within two years she had saved £9,000 for an MBA at Warwick. 'Nine thousand! The locals only paid three and a half. Out of 30 students four were girls.'
She met her husband Martin while doing her MBA. 'I heard he had a double first and was very clever,' she says. 'So I made sure he was on my team for any projects we were set. He was three years my junior and we didn't get on. I think he found me far too dominant.'
Armed with her MBA she got a sales job at Elizabeth Arden cosmetics, despite the management expressing reservations about her ethnicity and how that might impact on her ability to sell to white middle-class women. After eight months in the back office, she was allowed to do direct-facing sales. Then she moved to Avon to pound the streets and ring on doorbells. From there, in search of her first P&L command, she went to an educational supplies company in Nottingham.
Next on her pilgrim's progress was the whacky - and fondly remembered by gadget geeks - Innovations catalogue which would fall each Sunday from your colour supplement and was later heavily parodied by Viz magazine. 'Toys for the boys! I loved it and was brand director. Those catalogues proved an interesting precursor to online retail - not that we knew that at the time. We put a few things on Demon internet back in 1989 and that was my first touch of e-commerce.'
At this time her husband worked at CompuServe. Its senior management from Columbus, Ohio so liked Mary's style that they persuaded her to take over marketing in the UK. CompuServe - anyone under 35 will need telling - was a 56k dial up internet access provider and early supplier of a real novelty: email. In pre-web browser 1992, CompuServe hosted the first known WYSIWYG (what you see is what you get) email content and forum posts. Fonts, colors and emoticons were encoded into 7-bit text-based messages. Turner and her colleagues wowed users with the GUI or graphical user interface. The UK's first national shopping service secure online transaction was the purchase of a WHSmith book from the CompuServe centre.
She worked steadily through the 90s getting CompuServe pre-loaded onto Dell and Tiny computers, putting free software discs onto magazine covers and recruiting first movers to her product before AOL bought CompuServe at the end of the decade. 'I love new ideas and new opportunities. I'm no birth mother - I don't create things from scratch. But what I've become good at is taking on small start-ups and helping them grow. You know - five to 10 people, pre-revenue. I can take something and bring it to the world, commercialise it.'
Probably the greatest value-growth she instigated was at Tiscali. The Sardinian ISP was created by Renato Soru in Cagliari in 1998. Turner had been running a weird and dysfunctional tripartite outfit called BT LineOne owned by the telecom giant, Rupert Murdoch's News International and UBM, then owners of The Daily Express. Tiscali bought LineOne and Turner was off on her next crusade. Turner was an early die-hard believer in broadband and put together a customer package far cheaper than was on offer. As she has said, 'CompuServe took us from paper to electronic, from 1D to 2D. But Tiscali made content rich by bringing in music, video, games and e-commerce to the internet. We brought in real 3D Technicolor.'
In 2001, Britain languished at seventh in the G7 for connectivity and only 9% of the population had access to broadband which was still relatively costly. In the next five years the UK got properly connected, Turner grew Tiscali UK from 4% of the group revenue across Europe to 67%.
You'd have thought, with more than 35 years in business under her belt, there would be a bit of worldly-wise, jaded scepticism. But no. She has an unfettered energy and enthusiasm that not only belies her years but also her long experience. Sure she has had her battles - just get her onto behemoth BT and how they defended their patch and stood in the way of her vision for Tiscali - 'I rang them up and threatened to strip naked and tie myself to the BT Tower if they didn't behave better.' Don't bet she wouldn't have carried out her threat.
'Do you know one year we were voted Number One e-brand at Tiscali? Amazon was number two and eBay number three. That made me proud.' When the time came to sell in 2009, it was Turner who acted as the go-between for the Italians and Charles Dunstone. The deal was done in the latter's kitchen, and Tiscali became TalkTalk when the 1.7 million customers were bought for £236m.
Along the way she had got into fashion and ASOS. 'Initially I said no. I do cables, HTML and software. I know nothing about fashion.' She was talked into a non-executive position by Waheed Alli, now Baron Alli of Norbury who joined us in Delhi after a trip to the Indian countryside with his mother in search of his roots.
He was ASOS chairman from 2000-2012 during which time the company went from a capitalisation of £12m to £3bn. Alli is a smart operator, best known as the epitome of the Cool Britannia days. He made his first fortune in investment banking and then another with his business and personal partner Charlie Parsons at the TV production company Planet 24, which created The Word and the new wave of 'yoof' TV. He created and still owns the international rights to Survivor. The first out, gay Asian member of the House of Lords, he has consistently shown himself to be one jump ahead. In addition to Koovs, he does children's TV in the US plus China and has other tech interests in Scandinavia. The Rich List has Alli's worth down at around £200m.
At home he even still acts as agent to old-time bankers Paul O'Grady and Ross Kemp, although the UK appears a far less attractive business proposition for him these days - 'I come to India for a proper dose of optimism,' he says. 'We are only after a tiny bit of real estate here. For me to succeed others don't have to fail. I knew Mary was the one to be CEO of Koovs and I waited for the right moment to ask her. She doesn't even take a salary.
'The great thing about e-commerce in India is that you don't touch government. That is the thing that normally trips businesses up.' India has run a well-defended economy until now with many restrictions on foreign direct investment - foreign-owned multi-brand retailers have been banned and Koovs has to have an Indian-based legal trading entity called Marble.
So what is the most difficult thing about running a business in India? Says Alli, 'Getting groups of people to be creatively confident. Individually people are creative but collectively they don't do it.' Says Turner: 'Well, it's not red tape. It's coming to terms with the fact that in such a dynamic market you can be distracted by so many opportunities. People tell me every day I could double our turnover if we did ethnic fashion. Or triple the business by adding kids' clothing. In India you mustn't over-dabble. When you are both capital and management constrained, you must remain disciplined. You must be patient and wait and wait until the right time arrives to pivot.'
So, after being told that the huge population from the subcontinent living and working in the Middle East means Koovs has an obvious market there, rather than open an office and fulfilment base in Dubai, they have formed a simple alliance with the huge Souq.com. To which they ship in bulk. Koovs sells not only well-known brands but also has its own private label with an inventory-led delivery model. Relatively small batches are designed and made in fast turnaround - often imitating something they've seen elsewhere that looks promising. The average value per order is around 1,700 rupees or £20 and 65% of orders now come via a mobile device. They have return rates of 28%.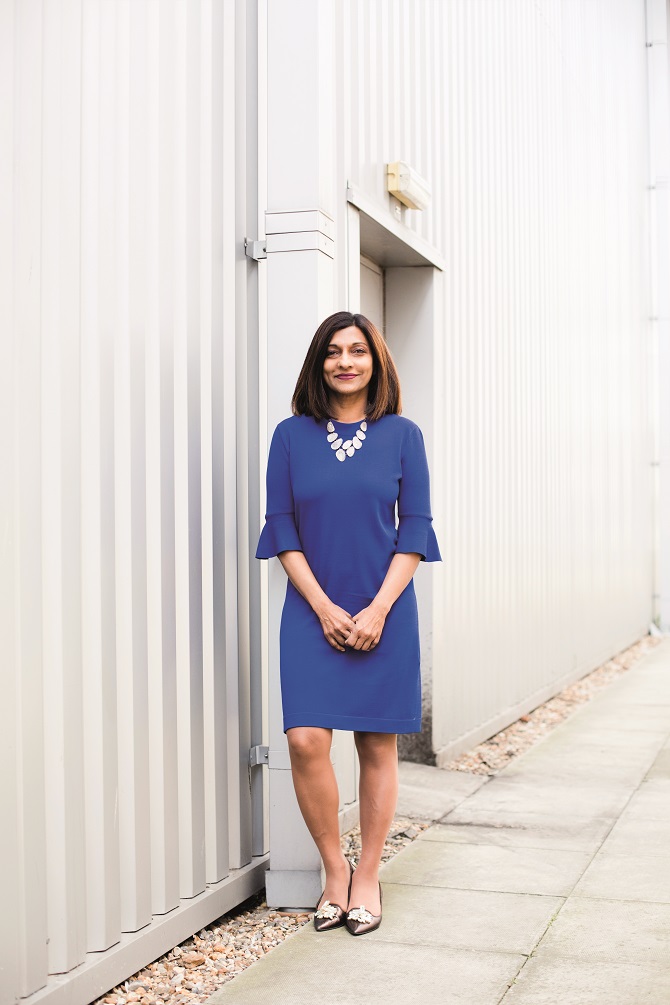 Her determination is quite something and she applies it to everything she does. This included having a child. 'I tried for eight years during the 90s to have a family,' she recalls. 'But I was getting nowhere. I had so many appointments with Lord Winston at his fertility clinic we got to know each other very well. I was his personal adviser for all things tech. And he tried so hard for me as I did a sixth, seventh, eighth cycle of IVF. I miscarried eight times but finally struck it lucky on the twelfth go. I somehow was convinced I'd be a mother eventually.'
She has one son Sam, born in 1998, who is now studying Natural Sciences at Cambridge. 'He's my greatest achievement, my start-up.' Having decided she'd take a while off to bring him up, she was lured back to work quickly by a new opportunity and he went off to a nursery and nanny.
'I asked him the other day if he had ever felt deprived because I was at work so much. He replied something quite strange and said, 'Mum, you have no idea how popular I am because of you. It's only because of you that people think I'm cool.' (Like a classic Asian mother she tries to get up to university to clean and tidy his room properly at least once a term.)
'My husband, however, just cannot understand why I don't opt for an easier life,' she says. 'He doesn't understand my motives. I think his biggest complaint is that I'm not running a FTSE.' She is very comfortably off having made significant amounts of money along the way owning small stakes in Tiscali and AlertMe, the cleantech connected homes outfit, which she ran that was sold eventually to British Gas and became part of Hive.
'I can't stand just being a body in the boardroom. And I do get many requests from investors and headhunters saying, "You're a woman, ethnic, understand tech and consumer marketing. You tick all the boxes. You're such a good package. And you're little."' Because she never stops grinning when she says things like this, it's easy to miss an underlying seriousness. She has made it against the odds - a true one-off. There are many others like her, from similar backgrounds who haven't.
Turner is an active doer who cannot abide sitting around twiddling her thumbs. She grew bored with ASOS after Alli had left and when she was given the governance brief, which wasn't her thing at all. She's no box-ticker. 'The funny thing is that I've never had a plan for my career. I've made mistakes but have never regretted anything. If you have no plan then everything is a success. At the moment my only plan is to get a dog. But I've been out-voted for the time being on that one.'
THREE CHALLENGES FACING TURNER
Keeping Koovs focused and tightly run as it moves towards profit
Deciding how fast she wants to keep running as she enters her seventh decade
Getting that dog
TURNER IN A MINUTE
1960 Born in Malaysia
1979 Management Science degree at Birmingham University and then MBA at Warwick
1982 Joins E&Y as graduate trainee
1984 Jobs at Elizabeth Arden, Avon
1991 Joins CompuServe UK as head of marketing
1999 Becomes boss of BT LineOne which is then bought by Tiscali
2008 Joins ASOS as non-exec board director
2014 Becomes first non-exec and then CEO of Koovs.