How to make meetings more exciting
With recent studies suggesting that too many meetings are a waste of time, Jon Ingham has some handy tips for making the minutes count...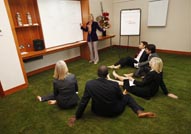 Few would disagree that meetings are a staple component of any office worker's diet. A dedicated space for getting creative, brainstorming ideas and evaluating available options, meetings should spearhead the direction of upcoming activity and business.
Meetings are in fact costing the UK economy £26 billion, according to new research from Epson and the Centre for Economics and Business Research. Indeed, the study found that office workers feel meetings are so unproductive that over half their time in them is wasted.
So if you're getting the sense that your colleagues and employees are secretly dreading a plethora of deathly dull gatherings, here are some suggestions to deliver successful, productive sessions: