Meganiche: the rise of specialist UGC websites
A new online trend has developed over the last decade in which user-generated websites catering to a very narrow set of interests can attract as many as a million users.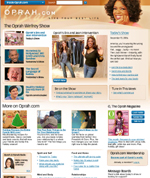 With more than a billion people currently accessing the web, these 'meganiches' can be profitable even if they only get a tiny slice of the pie.
Howard Chui created a website to discuss his personal and highly technical interest in cell phones, which led to a site called HowardForums.com, in which other cell users chatted about their products. The site gets revenue from advertising and is on track to break 300 million page views in 2006.
Another site called Gaia, dedicated to its users' interest in Japanese animation, has more than 4 million registered users. Users of this niche create their own avatars and hand-drawn images, share fan fiction and chat.
Websites like Gaia have more monthly page views per user than msnbc.com and oprah.com. They can be divided into four groupings: focused communities (gaiaonline.com), silly diversions (I-Am-Bored.com), narrow commercial offerings (YachtWorld.com), and creative forums (fanfiction.net).
The future market will be tougher because niche sites will no longer be able to take advantage of the hyper-growth of the web. Now that it has 1 billion users, growth will be slower. But they are here to stay.
Source:
Meganiche!
Clay Shirky
Wired, November 2006